R. Barbara Gitenstein
President of The College of New Jersey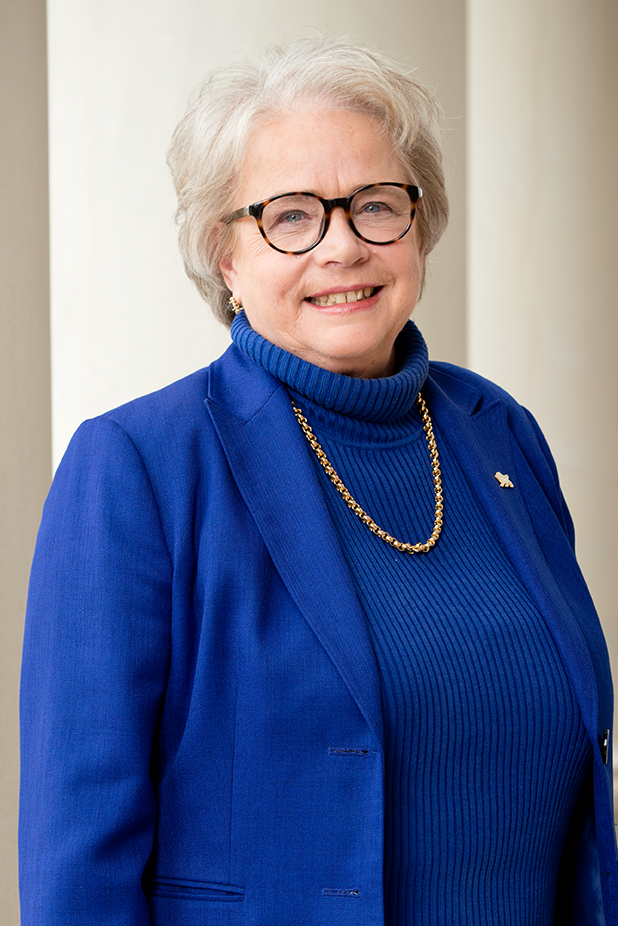 R. Barbara Gitenstein, president of The College of New Jersey, has over 40 years of experience as a college professor and administrator in both the public and private sectors. She came to The College of New Jersey from Drake University where she served as provost and executive vice president. She is the first woman to serve as president of The College of New Jersey in its 160-year history.
Upon her arrival at TCNJ in 1999, Dr. Gitenstein immediately set about enhancing academic rigor and faculty-student engagement, which led to a transformation of the entire undergraduate program. Delivering the highest caliber academic experience has been a consistent theme of her presidency, which is paying dividends for students of the College. The high number who graduate
on time, for example, has led to TCNJ being ranked 5th in the nation among all public colleges and universities for having the highest four-year graduation rate. In 2006, TCNJ was awarded a Phi Beta Kappa chapter, an honor shared by fewer than 10 percent of colleges and universities nationally.
During her tenure, the College has realized a significant increase in non-state revenue, including approximately $20 million in federal grant and set-aside revenue. Alumni giving has nearly doubled, the College's endowment has tripled, and TCNJ received its largest ever single gift: $5 million. Utilizing the public-private partnership provision contained in the New Jersey Economic Stimulus Act of 2009, Dr. Gitenstein completed a contract for Campus Town, the College's first public-private partnership with a developer. The project, which was built with $120 million in private funds, will generate close to $50 million in income to the College over the 50-year life of the contract. It created more than 350,000 square feet of amenities such as retail stores, professional services and restaurants for both the College and local communities, as well as housing for 612 students.
Under Dr. Gitenstein's leadership, the College has invested more than $380 million in its physical plant. Improvements include six academic buildings, housing for an additional 400 students, and the acquisition of 103 acres of property to add to the central campus of 289 acres. In 2017, three of the latest projects will be completed: a 74,000 square foot STEM (science, technology, engineering, and mathematics) building and a 15,000 square foot addition to the chemistry building, which are being built in part with a $57 million grant from the state of New Jersey, and a $38 million renovation of the Brower Student Center, funded by Sodexo Campus Services, the College's food service provider.
Dr. Gitenstein began her career in higher education as an assistant professor of English at Central Missouri State University. She held various faculty posts including professor of English and chair of the English department before being appointed associate provost at SUNY-Oswego. Dr. Gitenstein also held the post of acting assistant provost for academic programs with the SUNY December 2016 system while on leave from SUNY-Oswego. In 1992, Dr. Gitenstein was appointed to the position of provost at Drake University.
An active scholar, Dr. Gitenstein has written the book Apocalyptic Messianism and Contemporary Jewish-American Poetry, and has published numerous articles and reviews on Jewish and American literature. She is also active in higher education organizations and the community. Currently, Dr. Gitenstein serves on the Board of Directors for the American Council on Education, on the Nominating Committee and Committee on the Undergraduate Experience for the American Association of State Colleges and Universities and serves as an officer on the Executive Committee of the NJ Presidents Council. Dr. Gitenstein is the immediate past chair of the Middle States Commission on Higher Education, and was a member of the American Council on Education's Task Force on Accreditation. She serves as an Education Advocate for Choose New Jersey, a public-private organization aimed at cultivating and sustaining economic development within the state. Dr. Gitenstein also serves on the Executive Committee of the New Jersey Chamber of Commerce and is a member of the board of the Mid-Jersey Chamber of Commerce. She has served as a member of higher education transition teams for former Governors McGreevey and Corzine; chair and consultant evaluator for Middle States Commission on Higher Education evaluation teams; associate coordinator for the American Council on Education New York State Association of Women in Higher Education; chair of the Jewish-American Literature of the Northeast Modern Language Association, among others. She also participated in the Higher Education Resources Services, Mid-Atlantic Institute for Women in Higher Education Administration at Bryn Mawr College.
Dr. Gitenstein has served as a board member of New Jersey Resources, and the ING Investment Funds, and ING Mutual Funds; and is a past statewide chair of the New Jersey State Employee Charitable Campaign. Dr. Gitenstein was the recipient of the 2002 Woman of Distinction Award by the Girl Scouts of Delaware-Raritan Council, was honored by the Executive Women of New Jersey at its 2002 Salute to the Policy Makers dinner for her contributions to the advancement of women in management and the profession, and was the presidential sponsor for the New Jersey chapter of the American Council on Education's Network of Women Leaders in Higher Education. In May 2003, the YWCA of Princeton honored Dr. Gitenstein at their "Tribute to Women" in recognition of her outstanding achievements, contributions to the community, and model character. The KidsBridge Children's Museum dedicated to tolerance education honored Dr. Gitenstein in October 2007 with its first Humanitarian Award. In 2009, she was recognized by the Women's Caucus of New Jersey as a Woman of Achievement.
Born in Florala, Alabama, Dr. Gitenstein received a BA with honors in English from Duke University and a PhD in English and American Literature from the University of North Carolina, Chapel Hill. She and her husband, Dr. Donald Hart, have two children, Pauline and Samuel.
December 2016