To the Campus Community,
We have turned the calendar to October after an intense September of recalibrating and settling in. Continued thanks for your engagement on many fronts, including above-and-beyond efforts to grow educationally and remain flexible in these unusual times.
I write with a few updates guiding options and decisions in the weeks to come.
Spring Semester 2021. The most common question of the moment is "what will spring 2021 look like?" While the course of the pandemic is uncertain, we are planning for a flexible return to campus similar to what we had hoped to implement this fall. As Provost Osborn said in his presentation to campus on Wednesday, the Readiness Task Forces (Health and Safety; Academic Affairs; Student Experience; Campus Operations; and External Relations) are completing their assessments of lessons learned and applying best practices from the experience of TCNJ and other colleges and universities. We remain on track for announcing full details of our spring 2021 plans prior to when students register for spring semester in early November.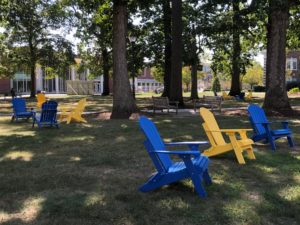 Campus Preparations. With many thanks to the dedicated and committed staff members in the Facilities Management division, the beauty of campus remains intact, but many systems and operations have changed as we implement the health and safety protocols developed over the summer. Social distancing, sanitization, and mask wearing are in full effect. Physically the campus has extensive signage to support a safe environment and hand sanitization stations in buildings, classrooms, and client-facing areas. Many offices are operating with reduced staffing and staggered schedules. This includes Admissions, which has begun offering small-group (10-person) tours of campus. The library, computer labs, Brower Student Center, and the dining hall remain open to support students living on campus and those using these spaces.
As you will see in the accompanying picture, Green Lawn is now dotted with heavy duty blue and gold Adirondack chairs, thanks to funds raised at the 2019 Day of Giving for the "Small Projects, Big Impact" campaign. Thank you to the selection committee for this much-appreciated way to direct those funds.
Return to Campus. In coming days, faculty and staff will receive from the Office of Strategic HR an electronic "Return to Campus Guidebook." The Guidebook outlines the range of health and safety measures, personal accommodations, and tips for remote and on-site work. If you have not completed your mandatory training or are not yet in the habit of using the Daily Health Self-Check on your Roar App, please do so now to ready for new norms.
In addition to—but not replacing—the Roar App, which monitors health and supports contact tracing on campus, is COVID Alert NJ, a new phone-to-phone exposure notification app released by the state to help with contact tracing throughout New Jersey. You can help the state in its contact tracing efforts by downloading the app. Find more information and the download link here.
Dashboard. By now many of you are familiar with the TCNJ COVID-19 Dashboard, accessible from the TCNJ website home page or directly here. The dashboard updates daily with the number of positive cases differentiated by on-and off-campus students and employees. These data are shown for both a rolling 14-day report and cumulative counts since August 25. As of this writing, most cases are off-campus student counts, all of which have led to contact tracing, quarantine, or isolation as appropriate.
Many thanks go to our 24/7 COVID Response Team, led by Contact Outreach Coordinator, Rafia Siddiq, and the team of experts from the Dean of Students Office, Strategic HR, Student Health Services, Risk Management, Campus Police Services, and IT. They are in daily contact with the Ewing Health Department and others in the state to execute our protocol, provide and post data, and keep us prepared and informed.
FY21 Budget. Last but not least, this past Tuesday, Governor Murphy signed the FY21 9-month state budget, which finalizes one major revenue source for TCNJ. (Normally, this is a 12-month budget, but due to pandemic disruptions, state entities operated from July 1-September 30, 2020, in an alternatively funded "fifth quarter" of FY20.) Thanks to substantial advocacy and the state's success at obtaining and using borrowing capacity, TCNJ and other public colleges and universities will receive roughly the same amount of money in FY21 as they did in FY20.
The budget also reflects actual numbers for fall enrollment, the other major revenue driver for TCNJ. Overall, undergraduate enrollments are lower than last year, yet higher than we budgeted, having anticipated a significant drop. Transfer enrollments and graduate enrollments are slightly higher than the previous year and exceeded budget estimates.
Overall, the budget, at $238 million, is smaller than in previous years, a reflection of the significantly lower revenues—and significantly lower expenditures from belt-tightening, including shared sacrifice from employee furloughs—necessitated by our remote-only arrangements. While it is early in the fiscal year and uncertainty still lies ahead, the resulting budget allows us to reduce the amount of money we must take from reserves to create a balanced budget, assuming some residential occupancy and on-campus presence in spring semester.
I go to bed and wake up wishing I could satisfy the COVID-based interests of individuals and groups on and off campus—students, parents, staff, faculty, visitors, alumni, and friends. This is not possible, given the diametric variance in wants, needs, risk tolerance, health and safety expectations, and more. Still, it brings me comfort that our diversities have a common thread of caring for one another and for this dear college. Thank you, TCNJ, for this immense gift of motivation and inspiration as we navigate the weeks ahead.
With warm regards,
Kathryn A. Foster
President